Automatic Misting Systems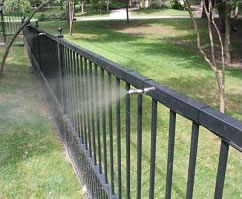 Automatic misting systems include plumbing around the perimeter of a home or yard, to deliver an insecticide mist at scheduled time intervals. There is no data showing their effectiveness in preventing disease transmission. The EPA does not expect risks of concern for people if label directions are followed.
The American Mosquito Control Association has several concerns with automatic misting systems, including potential pesticide resistance, non-target impacts to fish and pollinators, and increased risk of human pesticide exposures. If you choose to install a system, keep these tips in mind.
Avoid direct contact with sprays by keeping people and animals away from the spray zone. Keep outdoor pets away from the treated area.
Avoid touching plants or objects in the treated area.
Avoid releasing the mist too frequently. Overuse could cause unacceptable risks.
Be vigilant about the maintenance of your misting system.
Keep in mind that insecticides are toxic to insects, including bees and other pollinators.
Note that many insecticides are toxic to fish and aquatic life, including pyrethrins and pyrethoids.
If you have questions about this, or any pesticide-related topic, please call NPIC at 1-800-858-7378 (8:00am - 12:00pm PST), or email at npic@ace.orst.edu.
Additional Resources:
Last updated May 3, 2016