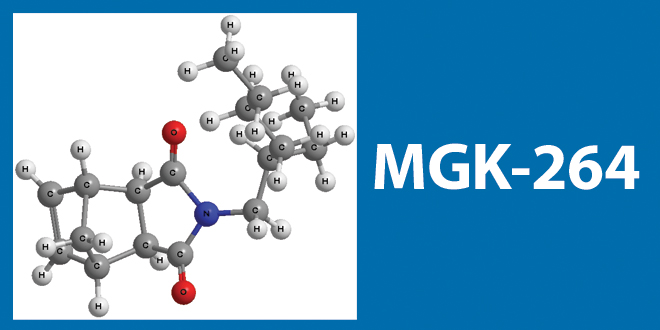 MGK-264 is a synergist. Synergists do not harm insects by themselves but they increase the effectiveness of some other insecticides. MGK-264 is low in toxicity to humans but is often mixed with other ingredients that may be more toxic. It is found in many products used inside and outside the home. It is also used in products for pets to control fleas and ticks. It is practically nontoxic to birds and mammals but toxicity to bees is not known.
General Questions about MGK-264

Are spot-on flea and tick products safe for my pets?

PestiByte Podcast


What should I do during mosquito spraying?

PestiByte Podcast


How to keep pesticides out of my well water?

PestiByte Podcast


My yard is being sprayed; can my kids go out and play?

PestiByte Podcast
If you have questions about this, or any pesticide-related topic, please call NPIC at 1-800-858-7378 (8:00am - 12:00pm PST), or email at npic@ace.orst.edu.
Last updated March 01, 2016