Active Ingredient Fact Sheets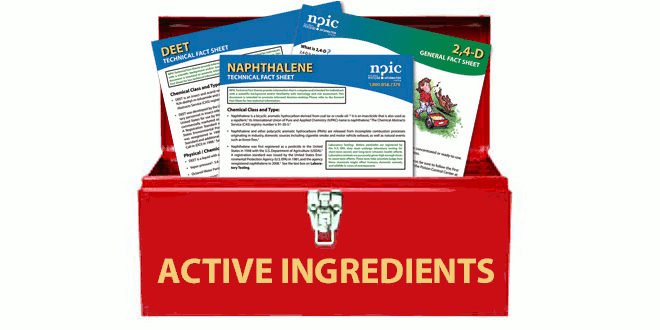 Active Ingredient Fact Sheets summarize the current knowledge for each pesticide ingredient, and are not intended to be an exhaustive review of available scientific information. These fact sheets include information on the chemicals' physical characteristics, mode of action, regulation, health effects, and environmental fate.
Our goal is to present relevant scientific information from credible sources. Most active ingredient fact sheets are available in both General and Technical formats for the public and professionals, respectively.
General Fact Sheets are written in an easy-to-understand question-and-answer format. They are intended for use by the general public or those with limited scientific backgrounds. They contain similar information to the Technical Fact Sheets, but they are written in more general terms.
Technical Fact Sheets are designed to provide detailed information on specific pesticide chemicals. They are intended for use by individuals with a scientific background or familiarity with the regulation of pesticides such as physicians, veterinarians, regulators or research scientists. Technical fact sheets contain information on the pesticide's physical characteristics, mode of action, toxicological information, environmental fate, ecotoxicology and detailed references.
To view some of the fact sheets you will need a PDF viewer like Adobe Reader.
---
2,4-D: General Fact Sheet, Technical Fact Sheet
Acephate: General Fact Sheet, Technical Fact Sheet
Bacillus thuringiensis (Bt): General Fact Sheet

Bendiocarb: General Fact Sheet, Technical Fact Sheet
Bifenthrin: General Fact Sheet, Technical Fact Sheet
Boric Acid: General Fact Sheet, Technical Fact Sheet
Bromadiolone: General Fact Sheet

Capsaicin: General Fact Sheet, Technical Fact Sheet
Captan: General Fact Sheet, Technical Fact Sheet
Carbaryl: General Fact Sheet, Technical Fact Sheet
Chlordane: General Fact Sheet, Technical Fact Sheet
Chlorpyrifos: General Fact Sheet, Technical Fact Sheet
Citronella (Oil of Citronella): General Fact Sheet
Copper Sulfate: General Fact Sheet, Technical Fact Sheet
d-Phenothrin: General Fact Sheet, Technical Fact Sheet
DDT: General Fact Sheet, Technical Fact Sheet
DEET: General Fact Sheet, Technical Fact Sheet
Deltamethrin: General Fact Sheet, Technical Fact Sheet
Diatomaceous Earth: General Fact Sheet

Diazinon: General Fact Sheet, Technical Fact Sheet
Dicamba: General Fact Sheet, Technical Fact Sheet
Fipronil: General Fact Sheet, Technical Fact Sheet
Glyphosate: General Fact Sheet, Technical Fact Sheet
Hexaflumuron: General Fact Sheet, Technical Fact Sheet
Hydramethylnon: General Fact Sheet, Technical Fact Sheet
Hydroprene: General Fact Sheet, Technical Fact Sheet
Imidacloprid: General Fact Sheet, Technical Fact Sheet
Iron Phosphate: General Fact Sheet

Lambda-Cyhalothrin: General Fact Sheet, Technical Fact Sheet
Malathion: General Fact Sheet, Technical Fact Sheet
Methyl Bromide: General Fact Sheet, Technical Fact Sheet
Methoprene: General Fact Sheet

Naphthalene: General Fact Sheet, Technical Fact Sheet
Paradichlorobenzene: General Fact Sheet, Technical Fact Sheet
Permethrin: General Fact Sheet, Technical Fact Sheet
Picaridin: General Fact Sheet, Technical Fact Sheet
Piperonyl Butoxide: General Fact Sheet, Technical Fact Sheet
Potassium Salts of Fatty Acids: General Fact Sheet, Technical Fact Sheet
Pyrethrins: General Fact Sheet

Resmethrin: General Fact Sheet, Technical Fact Sheet
Sulfuryl Fluoride: General Fact Sheet, Technical Fact Sheet
Triclopyr: General Fact Sheet, Technical Fact Sheet
Zinc Phosphide/Phosphine: General Fact Sheet, Technical Fact Sheet
Zinc Sulfate: General Fact Sheet

Last updated February 13, 2015