Rodents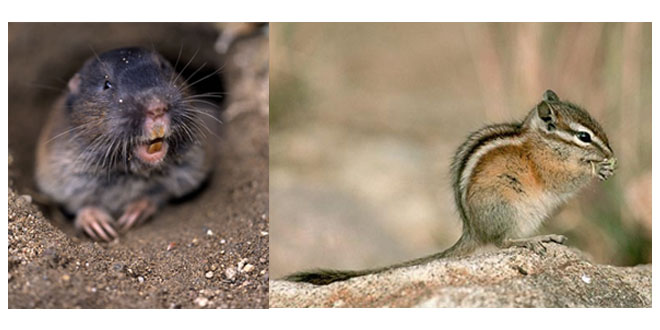 Rodents can damage buildings, contaminate food, and transmit diseases to people. The rodent family includes over 2,000 species of rats, mice , gophers, voles, beavers and more. They're also adaptable, capable of learning by trial and error. As a result, people who need to control them have always struggled to "build a better mouse-trap."
Control tips:
It's important to know which species of rodent you're dealing with; they have different habits and preferences.
To identify your rodent, choose a link below, or try contacting your local Cooperative Extension Service.
If you have holes or digging evidence in the yard, use the guides here to learn more.
Food isn't the only thing rodents are attracted to. Remove nesting materials, water sources, and travel pathways to discourage rodents.
Reduce clutter inside and outside to discourage rodents. Neatly kept homes and lawns are less attractive to some rodents.
Experts recommend an IPM approach to control rodents. Try prevention, sanitation and exclusion, and use rodenticides only as a last resort.
If you have questions about this, or any pesticide-related topic, please call NPIC at 800-858-7378 (8:00am - 12:00pm PST), or email us at npic@ace.orst.edu.
Last updated January 26, 2021
Rodents
Identify your rodent first. Some rodents are climbers, some are diggers. Identification can help you choose a control method.
Be vigilant. Rodents can learn through trial and error and may require constant effort and a variety of control tactics.
Observe trails or signs of rodent activity to target the resources they use.
Contact a professional if electrical equipment is infested or looks damaged.
Remove food and water sources when possible. Open garbage, spilled birdseed, leaky faucets, and bird baths can attract rodents.
Keep food in sealed jars, tins, or heavy plastic containers to prevent damage. All rodents have teeth specialized for gnawing.
Eliminate clutter inside and outside.
Trim trees and vegetation growing along walls or near roofs.
Exclude rodents by sealing cracks and crevices larger than one quarter inch.
Use fencing for garden areas. Fence type and placement depends on the species.
Introduce traps early. Estimate how many traps you will need from the suspected number of rodents.
Anticipate occasional trap failure. Set additional back-up traps.
Traps can be effective for reducing rodent numbers. Traps can also be used in combination with a rodenticide.
If you choose to use a pesticide, read the label before you buy. Try a lower toxicity product first.
If you have a pesticide product in mind, have your label handy and click here for information about that product.
County Extension Offices
Through its county agents, the Cooperative Extension Service gives individuals access to the resources at land-grant universities across the nation. These universities are centers for research in many subjects, including entomology (the study of insects) and agriculture. Each county within the United States has an Extension office, which is staffed with agents who work closely with university-based Extension specialists to deliver answers to your questions about gardening, agriculture, and pest control. You can find the phone number for your local county extension office in the local government section (often marked with blue pages) of your telephone directory or by clicking on the map below.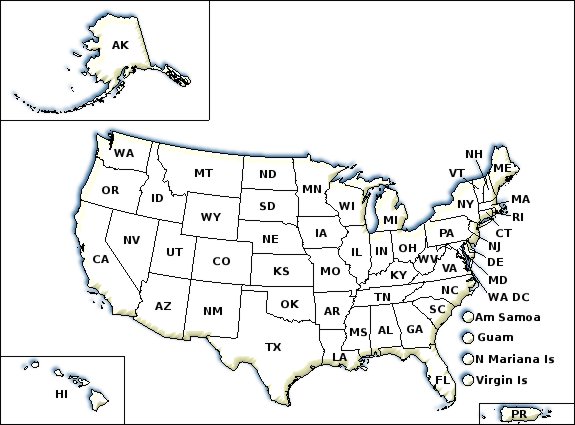 U.S. States:
AK | AL | AR | AZ | CA | CO | CT | DE | FL | GA | HI | IA | ID | IL | IN | KS | KY | LA | MA | MD | ME | MI | MN | MO | MS | MT | NC | ND | NE | NH | NJ | NM | NV | NY | OH | OK | OR | PA | RI | SC | SD | TN | TX | UT | VA | VT | WA | WI | WV | WY | Washington D.C. |
U.S. Territories:
Puerto Rico | American Samoa | Guam | Northern Mariana Islands | Virgin Islands