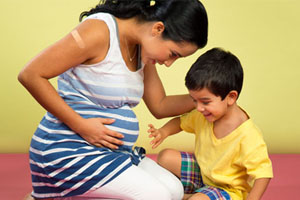 If you choose to use a pesticide, you must read the entire product label first and follow all the label directions. All pesticides have some level of toxicity and pose some risk during pregnancy and babyhood. Because of this, it is important to minimize exposure to pesticides during pregnancy and when we have little ones at home.
Babies are more sensitive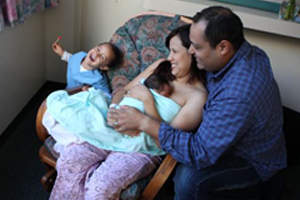 During pregnancy and babyhood, the babies' internal organs are not mature. They are still developing rapidly. The barriers that help remove harmful substances from their bodies are not fully developed. Babies may also take in more pesticides than adults, because they take more breaths per minute and have more skin relative to their body weight.
Normal behaviors, like crawling, playing on the floor or lawn, and putting things in their mouths may also put young ones at a greater risk of pesticide exposure than adults. For example: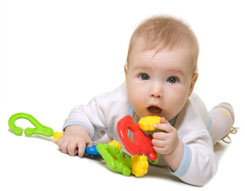 Playing closer to the ground where pesticides were applied increases their chances to breathe in chemicals.
Crawling on treated carpeting may allow skin exposure to pesticides.
Touching and mouthing items may increase the chances of eating chemicals.
Ways to lower risk at home
Understanding the risk from a pesticide is important to find out how to lower the chances of exposure. Also, consider lowering the amount of pesticides used in your home by using an integrated pest management (IPM) approach. You can contact your local cooperative extension service for more information on this topic.
If you or someone in your family is a farmworker or a pesticide applicator, consider learning more about minimizing exposure at work and washing dirty work clothes.
Before application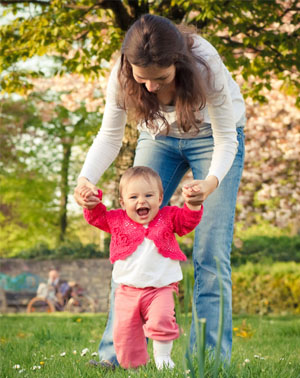 Read the product label first. Make sure the product can be used where and how you want to apply it.
Learn about your pest and use the least-toxic option that works.
Poison-proof your home, make sure pesticides are out of reach of your little ones.
Move food, dishes, and baby's things out of the way before spraying.
If a pesticide is applied outside, close all windows and turn the air conditioner off to keep fumes out of the house.
You may consider leaving during the application.
Make sure pregnant women and babies are out of the treated area during a pesticide application. If possible, have someone else perform the pesticide application.
After application
Some labels will tell you how long to wait to return to the treated area. Make sure you wait the amount of time indicated by the label or longer. If the label doesn't say how long to wait, wait until the pesticide is totally dry or longer.
Open windows and let air flow into your home after an application before returning to normal activities.
Avoid contact with the treated surfaces as much as possible. Consider placing a blanket or a play mat on areas where the baby will be crawling.
If a pesticide is applied close to food preparation areas, consider washing those surfaces after the treatment.
If you must garden in areas that have been treated with pesticides, consider wearing gloves and clothing that covers your skin.
All of these options can reduce the risk of pesticide exposure. The early days of development are important and fragile.